Coffs Coast Charity Walk Kicks Off!

The CHARITY CHALLENGE is the official kick-off event to the Coffs Coast Charity Walk to raise money for the Westpac Rescue Helicopter on Sunday 2nd June.
Come down to the club and enjoy a morning of fitness and fun to help
raise money and watch our very own Personal Trainer Glen challenge
Westpac Rescue Helicopter Crewman Tom Lee Lewis!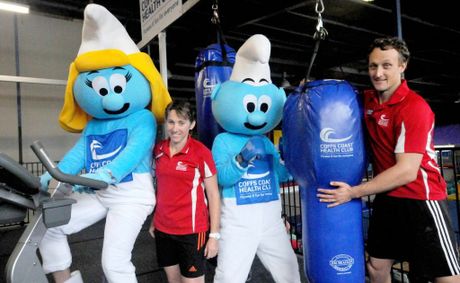 TRAINING – indoor/outdoor training session with our
Personal Trainers at 7.30am for a $15 per person donation 
BBQ BREAKY – to refuel, for a gold coin donation
FOR THE KIDS – Coffs Coast Health Club Smurfs will be here, face painting
and the Westpac Helicopter Simulator!!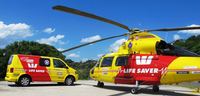 Where:   Coffs Coast Health Club
When:    Saturday 4th May from 7.30am – 12noon
TELL YOUR FRIENDS to join tomorrow and mention 'Coffs Charity Walk' to avoid the $149 joining fee and receive 3 x 30min personal
training sessions for only $17 a week!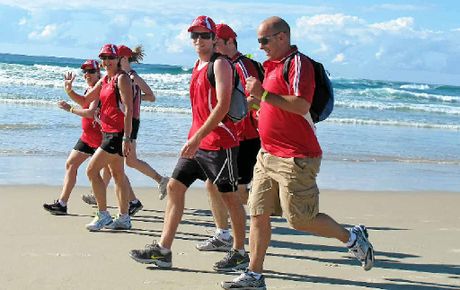 PLUS….we will be holding members and friends 'Group Personal Training Sessions' every Wednesday morning during May at 6.30am on site at
Coffs Coast Health Club!
Booking required through Linda Nolan or reception on 6658 6222 for each session.    Gold coin donation per session with proceeds going to the
Westpac Rescue Helicopter.

Jump on Board … the next life they save could be someone you know!

———————————————–
Group Exercise Is Social and That's Why It Works!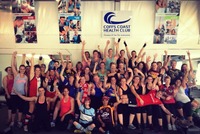 Turn fitness into a social event and you will reap the motivational and health benefits in no time.
We have over 40 classes on our timetable, when was the last time
you tried one?
Whether you do a class, personal training or simply have a training buddy,
there are many benefits to exercising with other people. If you work out with others,
accountability is a great motivator. If you don't show up, you'll be letting other people down.
Encouragement from an instructor or your workout buddies can be a key factor in keeping
you on track and achieving your results.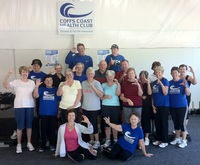 Getting to know others in the club, making new friends and sharing your fitness experience has many other benefits than just physical ones.
Find new friendships (not just on facebook), new job opportunities, babysitters, dog walkers, hairdressers and yes even intimate relationships are initiated
within the very social fabric of our health club.
The support, friendship, fun, happiness and psychological benefits you gain from exercising with like minded people are amazing and we love it!
It's always nice to receive compliments for your efforts too, so remember to pass them on to people you see in the club working hard every visit to improve their lifestyle/
CHILDMINDING is sad to say goodbye to Amy Cameron who is moving away soon but we also get to WELCOME one of our fantastic members on to the childminding team Kirby Heiler! Say hello to her on your next visit…
———————————————–
Comics On The Run Is Back Again!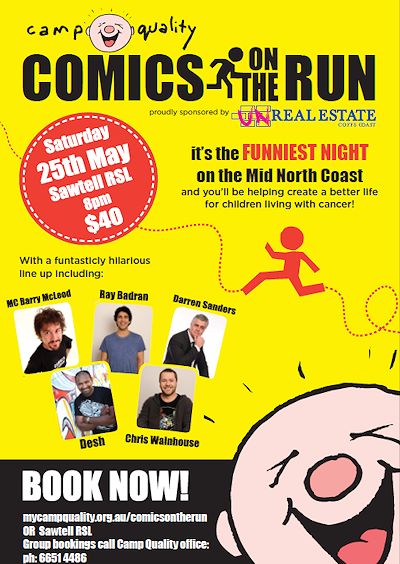 Camp Quality's annual night of comedy Comics on the Run is back to help
create a better life for every child living with cancer and we would love you to
join us. Featuring the country's best headline comic writer and performers,
the night showcases a great line-up to give you a good dose of fun-therapy!
Comedian Chris Wainhouse, from 'Rove Live' and 'The Footy Show' with his brand new stand-up comedy set. Sydney's brightest young talent Ray Badran, showcased on Chanel Nine's footy show.  Desh,  the Aussiest South African Indian Comedian in the world, and back by popular demand from last year, Darren Sanders with his hilarious "travelling the pacific" stories. 
Where:   Sawtell RSL 
When:    Saturday 25th May, 7.30pm 
What:      Plenty of laughs, charity auction and more!!!
———————————————–
Clothing, Classes, Personal Training,
Healthy Inspirations, Supplements or a Massage for Mothers Day 12th May!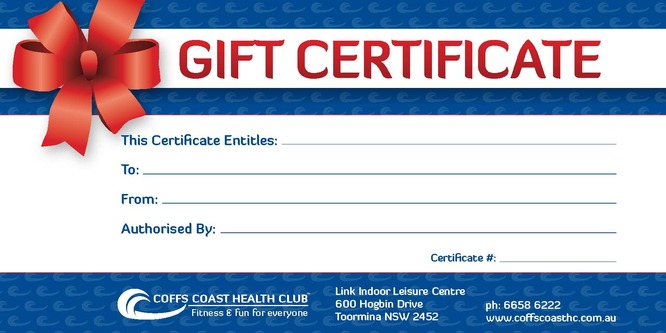 Gift Certificates NOW AVAILABLE at reception!
———————————————–
Sleep Well For Effective Weight Loss! (but not too much)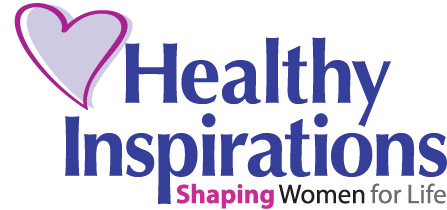 There are many reasons why you may not be sleeping well, ranging from a busy schedule, stress, anxiety and illness to alcohol, caffeine and some medications.
Not enough sleep may effect your hormones causing metabolism to slow, blood glucose and insulin levels to rise. Hunger can be increased and energy levels can be low, all of which slow down the weight loss process.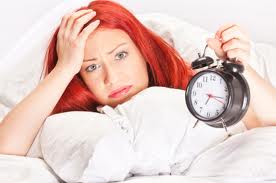 The solution might be to strengthen your natural sleep pattern by using some or all of these tactics:
1. Get up at the same time every day
2. Turn your bedroom into a darkened sleep shrine complete with candles
3. Don't exercise, drink caffeine or alcohol, or eat a large meal after 8pm
4. Have a warm shower or cup of tea before bed (chamomile is great)
5. Don't watch TV in bed
6. Relax and do some stretching exercises
7. Early morning exercise will help you fall asleep faster and sleep longer
REMEMBER THE EQUATION
SLEEP+DIET+EXERCISE=WEIGHT LOSS
Have a chat with Linda or Simone in the club or email: coffsharbour@healthyinspirations.com.au
to find out how they can help you achieve your weight loss goals!
———————————————–
Coffs Coast Kids Club the Next Big Thing!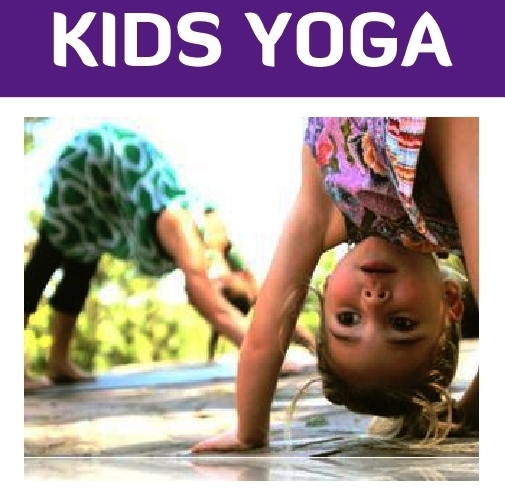 The local kids of the Coffs Coast are preparing to participate in a unique, healthy and fun exercise program. Coffs Coast Kids Club is hosting its first official program to give kids a place where they can develop balance, strength, coordination, fitness and flexibility in a non-competitive environment while having lots of fun!
Coffs Coast Kids Club is run by one of the club owners, yoga and zumba instructor and Mum of two who is passionate about improving the quality of life of the kids in the Coffs Coast community.  Carla creates an environment where kids can express themselves creatively, learn to move their bodies, dance, laugh, play and learn.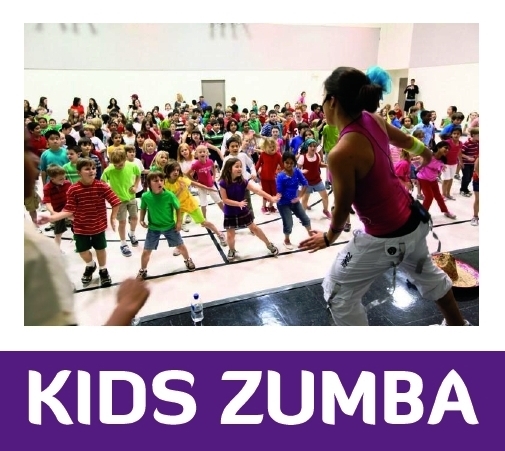 Coffs Coast Kids Club Programs on site at C.ex Coffs, Vernon Street:
Kids Zumba   (3 – 5 year olds)                 Tuesday 11.00am – 11.30am
Kids Yoga      (3 – 5 year olds)                  Tuesday 11.45am – 12.30pm
Kids Yoga      (18months – 3 year olds)    Tuesday 12.45pm – 1.15pm
Kids Zumba   (5 – 8 year olds)                 Tuesday 3.30pm – 4.00pm
Kids Yoga      (5 – 8 year olds)                  Tuesday 4.15pm – 5.00pm
**NEW CLASS**
Kids Yoga      (9 – 12 year olds)                 Tuesday 5.15pm – 6.00pm
There are limited places still available for each Term 2 session, continuing Tuesday 7th May.
8 weeks of classes for only $88.
Bookings are also available for private sessions, schools, community groups, sports teams & birthday parties at your preferred venue. Simply contact Carla on 0412 930 064 or via carla@coffscoasthc.com.au for further information.
———————————————–
Cellucor C4 Extreme Has Arrived!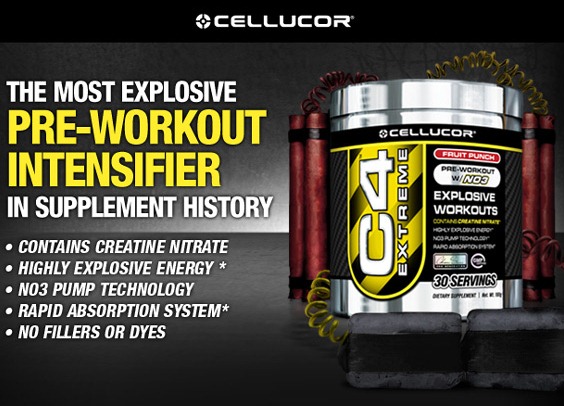 Cellucor C4 Extreme is powdered ENERGY! Harnessing exclusive, premium ingredients such as Creatine Nitrate, C4 Extreme is a more advanced than any pre-workout supplement in its class, possessing the power to ignite your mind, muscles and workout regimen, workout after workout after workout…..
We have just secured a great launch only deal with Cellucor for May and now have a limited number of tubs for ONLY $59! It has 60 serves, so it's only $1 per serve! Try some today but be quick before they all go…
We also provide 10% OFF other individual products to all members if you have more targeted needs. Inquire at reception for further information or speak with your trainer but make your move today as we have limited stock available.
———————————————–
Australian Institute of Personal Trainers – Fitness Information Night!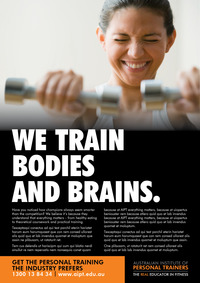 Live your dream in 2013! The fitness industry is booming.
With an increased focus on health and fitness there is unprecedented
growth and demand for high quality personal trainers and fitness professionals.
Our Fitness Info Night will cover the career opportunities within the fitness industry, how to get involved, and what it takes to be a success.
Listen to Personal Trainers and local Campus Directors, Steve Marquette and Tracy Welsh engage you with how they became immersed in living their
passion as personal trainers and business owners and how you can do
the same.
Do something you're passionate about, help people achieve their goals &
kickstart your career in fitness!
Where:   Coffs Coast Health Club
When:    Thursday 9th May at 6.20pm for a 6.30pm kick off
How:       SMS Steve 0431 077 417 or Tracy Welsh 0429 695 096
               or email them via coffscoast@aipt.com.au to book your place
Cost:       FREE!!!

Invite your friends for a FREE TRIAL & grab yourself a new training buddy!
Sincerely,
Your CCHC Team

Tags: Coffs Coast Health Club, eNews, Healthy Inspirations Coffs Harbour, May eNews