Group Exercise Technique Classes COMING SOON!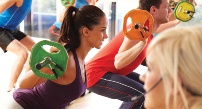 Our wonderful instructors have given their valuable time to help everyone get more out of their group exercise classes. Come along and learn the correct techniques from the experts. The classes are fantastic for new participants, those looking to get in to group exercise or those regulars looking to brush up on their skills.
Pop the following dates in to your diary…
PUMP        Monday 15th April at 9.00am with Nic
PUMP        Monday 15th April at 5.00pm with Brett
CYCLING    Monday 15th April at 5.00pm with Nic
BALANCE   Tuesday 16th April at 9.00am with RuthAnne & Carla
BOXING      Tuesday 16th April at 5.00pm with Glen
BOXING      Thursday 18th April at 5.00pm with Lee
Bring a buddy for FREE to all technique classes & they can stay to do the class too. Call 6658 6222, email info@coffscoasthc.com.au or book at reception on your next visit.
CHILDMINDING is one of the busiest departments of the club and with the school holidays just around the corner, please ensure you book at least the day before if you wish to utilise this service.
Booking the day before not only allows us to match the right amount of carers to the amount of children but it also saves you money as drop in children are charged more.
———————————————–
Coffs Coast Health Club TV!


Most of you know about our facebook page, many of you know about our twitter page but have you checked out our youtube page recently?
Glen has been doing a great job of updating it with tips, exercises, stretches and interviews. Just click here to see what we mean and subscribe to the page, so that you will be the first to see any new video when it is uploaded.
———————————————–
So What Is Healthy Inspirations?


We make it easier for women to measure up with affordable weight loss! There are Healthy Inspirations Shaping Women For Life Programs right across Australia and New Zealand, delivering the revolutionary 3 in 1 weight loss solution for women. Of all the weight loss programs available to women, only Healthy Inspirations integrates the three essential strategies for effective weight loss: nutritional advice, achievable exercise and professional support. Our members have lost over 130,000 kilos so far and because our weight loss program takes a lifestyle approach,
we have thousands of members who have kept their weight off for 2, 3, 4 years and more.


We're so excited about the incredible results that our members are getting. Before they came to Healthy Inspirations, most members said that they had "tried everything", but they simply had not tried the combined power of a fully integrated program that puts all the essential components for lasting weight loss together at the same time – with the support from having a one-on-one coach.
Have a chat with Linda or Simone in the club or email coffsharbour@healthyinspirations.com.au to find out how they can help you achieve your weight loss goals!
———————————————–
One On One or Small Group Personal Training!


Many members have already taken advantage of the One on One Personal Training Kickstart deal of 3 x 30min sessions for $99. The members have been able to establish goals and set a plan to achieve them. The members have realised the level of effort required in both exercise and lifestyle changes that they need to make to establish these goals. This offer is now open for the rest of April, so take advantage of this deal to keep your summer efforts rolling through winter. Contact Glen directly on 0411 037 097 & he will arrange your first appointment with the most appropriate trainer for your needs.
For those of you after some Personal Training sessions with a difference, join Jenny Morrall and her TABATA training sessions.
She conducts Small Group Personal Training with these challenging HIIT (High Intensity Interval Training) sessions. They are held on Mondays at 9:15am with up to 10 people at a time.
Contact Jenny directly on 0409 834 420 for more details.
———————————————–
Invite The Coffs Coast Health Club Smurfs To Your Next Event!


Our wonderful Smurfs are doing a fantastic job of entertaining crowds, putting a smile on adults & childrens faces alike & delivering the healthy lifestyle message throughout the local community.
They have been seen at sporting registration days, the Barney Miller Surf Classic, in the main street of Sawtell for the Easter Fun Day & even delivering Valentines Day messages to students at Toormina High School.
They have been so popular that they need their own diary now, so if you would like them to visit your upcoming event, please contact Linda via community@coffscoasthc.com.au or 6658 6222 & she will arrange for them to help make your event a special one…
———————————————–
Ignite Your Fat Burning Potential With D-Fine8!


Dfine8 contains active ingredients that help to curb your appetite while also offering properties that help you to maintain your energy levels throughout the day. Its effect of curbing your appetite means that you don't have to spend your day feeling hungry because your diet prohibits you from eating.
This supplement is prefect for any athlete, sports person or individual wishing to burn more calories and speed metabolism to assist with weight management or any individual wishing to sustain there energy for workout purposes or daily tasks.
We have just secured a great deal with D-Fine8 for April and now have a limited number of 450g packs for ONLY $64! That's the cheapest in the region by a loooong way. Be quick…
We also provide 10% OFF other individual products to all members if you have more targeted needs. Inquire at reception for further information or speak with your trainer but make your move today as we have limited stock available.
———————————————–
Coffs Coast Massage Therapy is the secret ingredient to optimal well being. Repair, rejuvenate and relax with our professional massage therapists as they work with you to improve your quality of life and daily performance.
We provide services including remedial massage, sports massage, relaxation massage and trigger point therapy in a comfortable environment. We treat joint pain, muscular pain, neck and back pain, headaches, movement and postural disorders. We also repair your aches and pains from sport, work, fitness and leisure activities or just provide you with a relaxing respite from your hectic daily demands.
Have a chat with Angela in the club or email info@coffscoasthc.com.au to find out how she can help you get the well being satisfaction you desire!

Invite your friends for a FREE TRIAL & grab yourself a new training buddy!
While others focus on controlling the fitness market, we focus on helping you get fit. Thank you again for being such a loyal member & supporting the region's community health club.
Sincerely, 
Your CCHC Team
Tags: April eNews, Coffs Coast Health Club, eNews, Healthy Inspirations Coffs Harbour