Let's Make It A Merry Christmas For Everyone!
Parrys Jewellers & Coffs Coast Health Club are joining forces again this year to collect non-perishable items for  the less fortunate people in our community. The generous support of our amazing members combined with Parrys customers have made a huge difference to the Christmas experience for so many over the past couple of years. We are proud to facilitate the charity drive again in 2012 & ask you to please donate items of value over the next couple of weeks. The charity box will be set up at reception for you to deposit your items & we thank you in advance for your generous support of those in need.
If you are stuck for ideas, try these:
•           Disposable Nappies, Dummies, Baby Cot Sheets
•           Baby Food, Baby Powder, Small Xmas Cakes
•           Lollies, Nuts, Canned products with Pull Rings
•           Long Life Milk, Tea, Coffee etc
We have until 19th of December to donate as much as we can, please do your best…
———————————————–
JOIN NOW & PAY NOTHING UNTIL 2013!
If you or anyone you know joins Coffs Coast Health Club between the 1st of
December & the 24th of December, they will PAY NOTHING UNTIL 2013! That means no joining fee & also no membership payments until 3rd January SAVING OVER $200!
We know it can be hard to motivate yourself to exercise during party season but it's a hell of a lot easier if your doing it with someone. Training buddies can help keep you accountable, motivate you, keep you on track & provide a great social relief when working out. If there is ever a time to keep up your training, burn those excess party calories or start on a new workout regime its NOW!
The offer is only valid to the first 30 people that join on any 12 month membership though, so move fast…
See reception for more information & to get started today. The sooner you start, the more you save!
———————————————–
Winners Everywhere!

We would like to send a huge thank you to The Good Guys for their immense support of our valued members during November by being an invaluable part of our Member Referral Promotion. We now have four very happy members who have each received a brilliant prize donated by The Good Guys. A coffee machine, a juicer, an ipod dock stereo & an lcd tv were all given away over the past four weeks.  
The Good Guys always have great deals, so head on in to see Jarod & the team for all your Christmas Gifts this festive season.
———————————————–
Massage Therapy Update!
Hands up if you would love a soothing, massage with our resident Massage Therapist Katie?
Well now is your chance… Relax, rehabilitate or rejuvenate your mind as well as your body with this great deal.
Buy one 60min Massage & get 50% OFF another one!
That's one for someone special… & one for you (or two for you).
Gift vouchers are available at reception but be quick because this offer is only valid for the first 30 massages.
———————————————–
Welcomes & Farewells!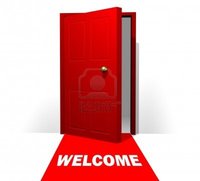 Farewell to Ash, our wonderful personal trainer & group exercise instructor is off to lands far away as she does a bit of long overdue travelling. Ash has been a valuable member of our team, we will miss her energy on the gym floor & also in her Attack classes. Farewell to Jayne, our queen of laughter has been instructing at the club for the past three years. Jayne will be missed by her Pump & Senior participants but is leaving us to join Steiner, cruising the world & sharing her joy for life. From all of us here at the club we wish them all the best in their future endeavours.
With farewells & the expansion of our services in the New Year we now also Welcome three new instructors to our group exercise family. Jenna will be instructing Pump & Attack, Kellie will be instructing Heartmoves, alternating with Trish on Fridays & Sarah will be instructing Tbta, Boomers, Seniors & Attack. We Welcome Teena to the childminding family, who you may recognize from keeping all the little darlings under control on our recent open day with some pretty cool face painting. We also Welcome Kylie to the personal training family. Kylie used to workout at Coffs Coast Health Club as a tourist & when she knew her husband was being relocated here with his job, she applied with us straight away. A great PT but most importantly a lovely person, just like the rest of the new crew. We Welcome all our new instructors to the club as they will be bringing plenty of experience, knowledge & inspiration to us all. Say HI next time you see them in the club…
———————————————–
Group Exercise Update!
Be the first to launch & experience the latest releases from Les Mills for PUMP, BALANCE, RPM & ATTACK. An exciting mega morning of exercise is ahead of you with all classes taking place on the one day!
PUMP          Saturday 15th December at 7.30am
BALANCE    Saturday 15th December at 8.30am
RPM            Saturday 15th December at 8.30am
ATTACK      Saturday 15th December at 9.30am
Come dressed in your best Christmas theme & you may just win a prize…
Bring a buddy for FREE to all class launches but please book early as places are limited. Call 6658 6222, email info@coffscoasthc.com.au or book at reception on your next visit.
We have also improved the early morning classes by extending them to full 55min classes rather than the shortened 45min versions. This change has been initiated through feedback & you will still finish by 7am, so you can get on with your day, as they will all now start at 6am instead of 6.15am. Enjoy…
———————————————–
Personal Training Update
Give the gift of health this Christmas (to yourself or a loved one) with a PT Christmas Kickstart Pack!
Start that birthday suit alteration soon, look great & feel fantastic for your super start to 2013.
Buy a PT Christmas Kickstart Pack for only $99 & you will receive 3 x 30min Personal Training Sessions.
Gift vouchers are available at reception but be quick because this offer is only valid for the first 30 packs.
Yes ladies (if you don't look to closely) that photo is of us personal trainers, its our gift to you…
———————————————–
Give Blood, Save Lives & WIN!
This time last year we all entered the local Red Cross Blood Service Gyms Challenge and WON!  This year, the local Red Cross Blood Service has asked all members and friends of Coffs Coast Health Club to donate blood again during 15th October and 14th December this year to defend our title.
With only 3 percent of Australians donating blood, and more than 27,000
donations needed in Australia each week, it is vital we jump on board & help by donating some of our fit & healthy blood.
The winning gym members will receive the champions trophy & the satisfaction of helping to meet the demands of patients who rely on regular lifesaving treatments of blood & blood products.
Simply call 6653 0600 to make an appointment & register under "Coffs Coast Health Club – Gym Challenge". Encourage your friends, family and work colleagues to do the same and lets save some lives together.
———————————————–
Supplement of the Month


K-OS is back! K-OS EFX uses the latest scientifically researched ingredients to provide a safe and effective pre workout supplement that not only supercharges your workouts but takes them to the next level with explosive energy!
For the Month of November receive a further 10% discount on top of your members discount of 15%! Yes, you did just read that correctly 25% OFF! Only while stocks last though, so be quick…
We also provide 10% OFF other individual products to all members if you have more targeted needs. Inquire at reception for further information or speak with your trainer but make your move today as we have limited stock available.
———————————————–
Thanks for a Magnificent Members Christmas Party!

WOW what a great night! Perfect location, quality food & amazing people… Congratulations to Matt Devine aka Team Member of the Year & Sharon Marnoch aka Club Member of the Year! Also a special mention to Kiara Greenway for most visits to the club this year with 277 since January 1.Thank you to everyone that supported the event & check out our facebook page for many more photos…
Click here for more information on membership, personal training, weight loss, massage therapy, rehabilitation, group exercise, childminding, privileges card & fitness careers or call us on 6658 6222 for more help.
Invite your friends for a FREE TRIAL & grab yourself a new training buddy!
While others focus on controlling the fitness market, we focus on helping you get fit. Thank you again for being such a loyal member & supporting the region's community health club.
Sincerely,
Your CCHC Team